After a good and long nights sleep, we did our meditation in bed (Deep Healing with Davidji) and then got up to do our yoga session in the living room. Grace and Gerald were already up, as were the cats Pita and Pata (aka Pitter and Patter) who were quite amazed at our attics 😉
There wasn't a cloud in the sky and with the sun on the terrace, it was perfect for an outdoor breakfast. We don't know yet where we will settle in the future, but it will certainly be somewhere where we can have our meals outdoors most days of the year.
The Ebro delta
Grace and Gerald took us on a tour of the area here. They're only 20 minutes away from the beach, and on our way there, we visited the Ebro delta. It's one of the biggest rice producing areas in Spain. I didn't know there was any rice production in Europe, so that was quite a surprise.
It's actually not the best time of the year for a visit, because the winter has been extremely dry. Which results in all the fields being just plowed earth. Still interesting to drive through, and just beyond lies an estuary that's very beautiful and has a lot of wild life. We saw many flamingos, either sleeping on one leg with their heads under their wings, or fishing with their heads under water. Some of them stood up straight and proved that they do actually have heads… Two of them took flight and showed us their beautiful pink and black wings.
Horses on the beach
We drove a couple of kilometers over a hard packed sand road on the beach and saw five horses far off. They looked ephemeral from the distance, thanks to the warm air. As if they had extremely long legs. It was a magical sight and we stopped so Christophe could take photographs.

As we neared them, they turned out to be Friesian stallions, out for a quick photoshoot. I had the impression that they would have loved to have a long run along the waterline, but that wasn't to be. As soon as the pictures were taken, they we loaded in the van and transported back home.
Lunch at the sea side
It was past noon by then and we went to Vinarós where we had lunch almost on the beach with a beautiful view of the Mediterranean. Lunch consisted of a delicious salad and equally delicious pizza.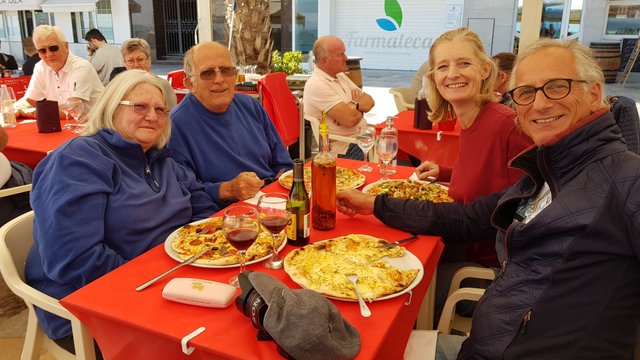 Our lovely hosts took us back home across small roads between orange- and olive groves with breathtaking views of both mountains and the sea at regular intervals. But before that we had did a photoshoot of ourselves…
We got home in time to enjoy a half hour siesta, stretched out in the garden, followed by an hours walk. We passed an old, tiny, derelict house. Since it was obviously not inhabited and the door wasn't locked, we had a look inside. There was a deep well in the corner, and it looked like it was the kind of place that was shared with livestock. It gives quite another meaning to the concept of tiny house. In our current time and age, tiny houses are a choice not many people make. There was a time that many people had no choice and were happy to just have four walls and a roof over their heads.
Count your blessings
And that's another thing to be grateful for; to be born in this age in Western Europe. Had we been born say a hundred years ago, our lives would have been very different. And the same is true if we had been born in this age, but for example in the slums of a big Asian city.
Always count your blessings and be grateful for them. We do, every day, several times.