A couple of years ago, I committed an impuls purchase. I was standing in line at the check out counter at the supermarket when my eye was caught by a little energy bar called Nakd cocoa delight. I picked up the bar and read the label to find out what is in there. And was pleasantly surprised to find that there were only 4 ingredients, all of them rather normal.
So I ended up adding a 30 gram bar to my groceries. I paid € 1 for it if I remember correctly, which is rather excessive in my opinion. At home, I first put the kettle on, and put the groceries away while I waited for the water to boil. Then I made myself a nice cup of tea and sat down to sip tea and try the cocoa delight.
And I liked what I tasted! Admittedly, you can't easily go wrong with cocoa, but this was really something. However, € 1 for a 30 gram bar is way over my budget, plus the plastic wrapping that cannot be reused for anything… Luckily, the recipe is written on the wrapper. It says: 48% dates, 29% cashews, 17% raisins, 6% cocoa.
Recipe for home made Nakd cocoa delight energy bars
Which translates into:
240 g dates
145 g cashews
85 g raisins
30 g cocoa
Put them all together in a strong kitchen machine with sharp blades and pulse until everything is very small and clumpy. Transfer to a rectangle container and press firmly to create a kind of slab of equal thickness. Leave in the fridge for a couple of hours. Cut into small bars. Voila!
I've made this recipe a dozen time since then. With variations, using other nuts, a combi of nuts and grated coconut, replacing part of the raisins and dates by dried figs, etc. It's easy, fast and can hardly go wrong. And it stores well, even outside of the fridge.
It's a good snack to have handy when your blood sugar level takes a dip. But beware: dates are extremely rich in sugar. Fruit sugar doesn't get you the sugar high refined sugar will give you, but calorie wise, this is a bomb. So best cut it into small bits and savour one a day for a long time instead of eating all of it in one go…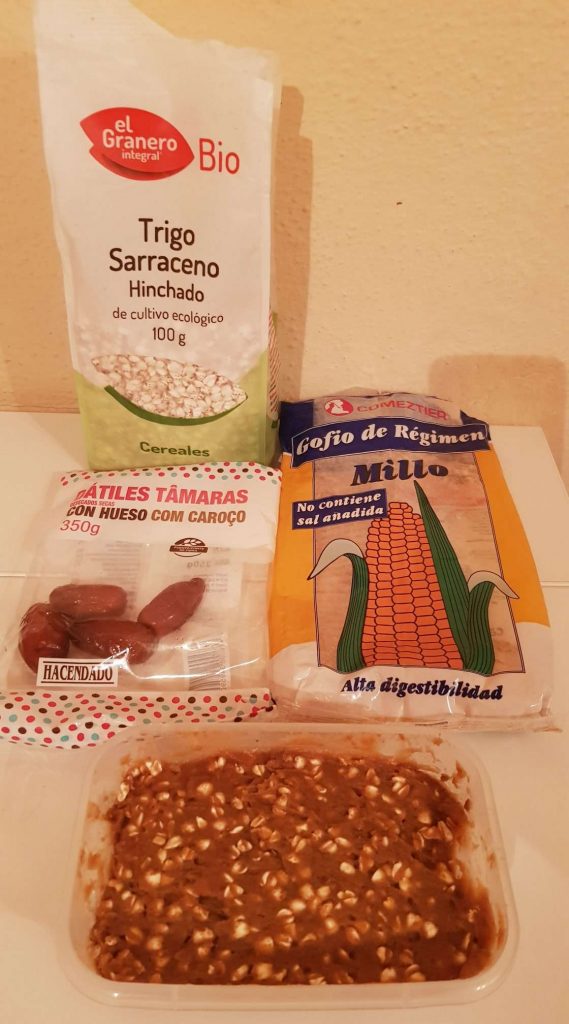 Energy bars gone awry
So today I wanted to try another variation. Because last month when we were in Tenerife, we bought something a bit similar yet different. It contained puffed rice and gofio. Gofio is a specialty that to my knowledge is only sold on the Canary Islands. It's a sort of Canarian flour made from roasted grains. We love it and brought 1,5 kg of it form Tenerife.
Unfortunately, being bohemians, we've only brought a little kitchen machine, which now seems to be on its last legs and has difficulty grinding the dates plus gofio. So I added some boiling water to help it. That got the job done, but no way is this ever going to resemble bars. I'm thinking tomorrow's dessert… It contains only dates, gofio and puffed buckwheat. But it tastes very nice, so I'm sure we'll find an appropriate way to eat it tomorrow 🙂