Yesterday at 18:30h, after a 9,5 hour drive, we arrived at our new home. It's at Finca Rienda Suelta in Andalusia. The landscape we passed through as we drove down here was somewhat of a surprise. Virtually all land is cultivated. We saw incredible surfaces of orange, peach, almond, olive, and grape. Endless neat rows of trees/plants with nothing growing under them. Let's hope it's the draught that impairs the growth of anything under the trees, not herbicides…
About 50 km before we reached our destination, the landscape changed. Low but wild mountains, cultivated up to a certain height, but quite natural above that height. At the top of the "White towns route", we drove past the city of Olvera. And then we got really close to Finca Ranchiles, which is another name of Finca Rienda Suelta, and found ourselves in a natural reserve. So only wild terrain 🙂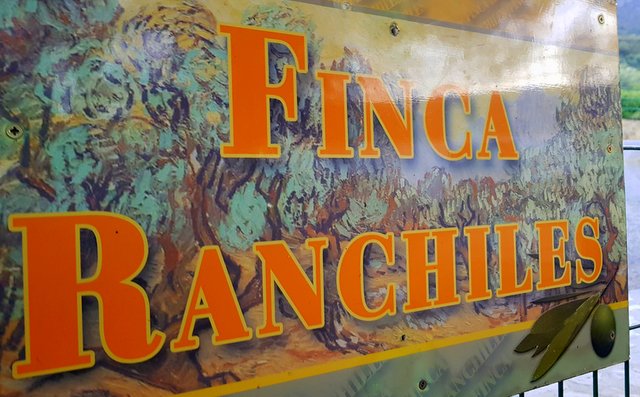 Tiny home
Our hosts were out for the day and evening, but had left the key of our apartment in the door, food in the fridge and a small electric heater turned on so that the apartment wasn't too cold. I write apartment, but it's actually a one-room studio. A corner is separated from the room to create a small bathroom. The grand total of floor surface is approximately 22 square meters. Remember I wrote about tiny houses the other day? Tada!
We moved all our stuff in and were a bit taken aback. It was really full in here! But then we started getting organised. Found places for our stuff in cupboards and moved empty cases back to the car. And now we are actually quite satisfied with the place! The kitchen is a bit of a challenge. It's by far the smallest we've had so far and lacks an oven. But we pretend to be camping, and from that perspective, it's extremely luxurious. All of it.
Let me sum it up for you:
The bed is perfect. It's comfortable and warm.
We can stand upright everywhere.
Indoor plumbing.
A private bathroom all to ourselves.
Kitchen with fridge.
Heating when it gets cold.
Airconditioning in case it gets really hot.
Shower with hot water and a lot of pressure. The best so far!
Garden with pool.
No neighbours (for now anyway).
The most beautiful view so far.
Horses all around.
You'd be hard pressed to find anything more perfect, wouldn't you?
Our first day as workawayers
This is actually a different deal than the house sitting we did so far. We found this place through workaway.info. Our hosts, Marion and Aldo, are the caretakers of this 90 hectare Finca and it's horses. They need a hand keeping the place tidy and training the horses.
We met them this morning after breakfast. First order of the day was feeding all the horses. They live in 3 different groups, plus a field with 2 donkeys. Marion and Aldo showed us what has to be done and introduced us to all the animals. And then we sat down with them to get to know each other, whilst enjoying tea and home made apple pie.
There's quite a lot of work to do, and we'll decide on a day to day basis what has priority. Feeding the animals always comes first, but then, over coffee/tea, the rest of the work will be decided upon. They didn't expect anything from us for today, but we choose to get a head start and attacked the round corral. It hasn't been used in a long while, and has become overgrown.
Work
Actually quite lovely with lots of flowers, but not very practical. We want to use it to work with the horses, and so the plants have to go. It was sunny and warm today and we had a nice workout, clearing several square meters. That took us an hour, maybe more. It's nice to do such manual labour and have an immediate result. Very satisfying.
We spent some hours in the afternoon working on Ananda. Based on the advice Peter Sage gave us, we decided to change the site once again… As usual, we implement the changes first on a test location. Once everything works and we're satisfied with the result, we copy it to the production site.
Horses
At 17:30h, Aldo was back to show us the feeding of the small group of horses that live in the lower field. They are the only ones that get fed twice a day. All horses live 24/7 outdoors on huge fields with grasses, herbs and small trees. Feeding them has more to do with keeping an eye on them than anything else. Except for the 4 in the lower field, since they stay near the Finca during the night. Lacking access to the field, they get grains at the end of the afternoon plus hay for the night.
The idea is that we do the afternoon feeding so that Marion and Aldo don't have to come here only for that. They live at 10 minutes from here, so that would save them time and effort. And for us, it's just around the corner. We paid close attention, and it's no rocket science, so I think that from tomorrow on, we'll manage.
In exchange for 25 hours of work per week, we are housed and fed. We live in a tiny yet comfortable house in one of the most beautiful areas in Spain. Part of the work consists of training horses, and we can ride the horses in our spare time if we want to. Sounds like a good deal 🙂