The day dawns rather grey and the forecast is non too warm nor sunny. But dry and not too cold either, so we proceed as planned. We load ourselves, my dad (who's here since Saturday late afternoon) and Molly into the car and head south, to Lourdes.
Yesterday evening, Christophe had researched the question whether or not we should bring Molly. He had only found reference that dogs aren't allowed in the basilique, but for the rest, it was okay. So we are unpleasantly surprised when we arrive at the gates and find a sign that says dogs aren't allowed on the grounds at all. It explains why there are several people with dogs waiting in front of the gates.
I enter the grounds with my dad while Christophe and Molly wait for us at the gate. We walk up the broad lane to the church at the end. It's huge! It's actually two churches, one upon another.
The Grotto of Our Lady of Lourdes
We enter the below one. It's full of people, because there is a mass going on, and we're not allowed to enter any further. We exit the church and go in search of the cave where Saint Bernadette Soubirous had several apparitions of the Virgin Mary in 1858. It's more or less around the corner and we find it quick enough.
As we arrive, there's an Italian mass going on, and a small choir is singing. Quite beautifully actually. But they are soon finished. We observe the comings and goings a bit but there's not much of interest to us, and the cave is… well, just that: a cave.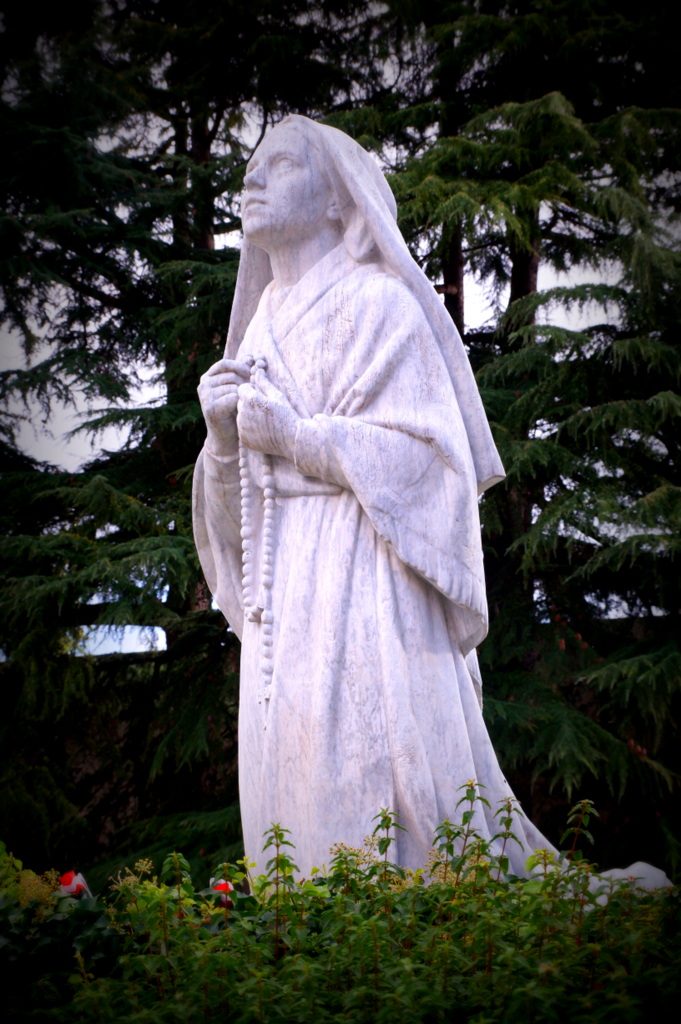 The Basilica of St. Pius X
We wander back to the entrance gates and pass an inconspicuous sign to the Basilica of St. Pius X. It's so inconspicuous, we first thought it was an underpass to reach the other side of the road. Instead, it leads to an immense underground church that can accommodate up to 25.000 people. The concrete construction is impressive if not beautiful.
When we emerge from the basilica, the sun is shining and it's quite warm. We rejoin Christophe and Molly and my dad takes Molly into a bar to have a coffee, while Christophe and I explore.
Rosary Basilica
The mass in the below church is over and we can have a good look around. It's a stunning piece of work with floor to ceiling mosaics, depicting the Passion. Catholic churches are usually very beautiful, as is this one. But it never seizes to amaze me how much violence and cruelty is depicted in them. To think that millions of people have grown up with the images of the cruelty of the Passion… I thought God was about love and compassion, but that's not at all what you see when you enter a (Catholic) church.
The Grotto of Our Lady of Lourdes (again)
As we go and see the cave, Christophe tells me that it was very different when he visited some 30 odd years ago. Back then, the wall was lined with the crutches and wheelchairs of people that had been healed by the waters of Lourdes. They aren't there anymore. Maybe the water has finally lost it's healing capacity after 160 years.
Lourdes water
We locate a row af taps where everybody can serve themselves. Lourdes water has miraculously healed 69 people so far. I guess autosuggestion might be at play here, but who cares? The ability of the body to heal itself is one of the least understood miracles of our time. If your belief is strong enough, you can do anything. So we fill a bottle to bring with us. If it doesn't work, at least it will do no harm.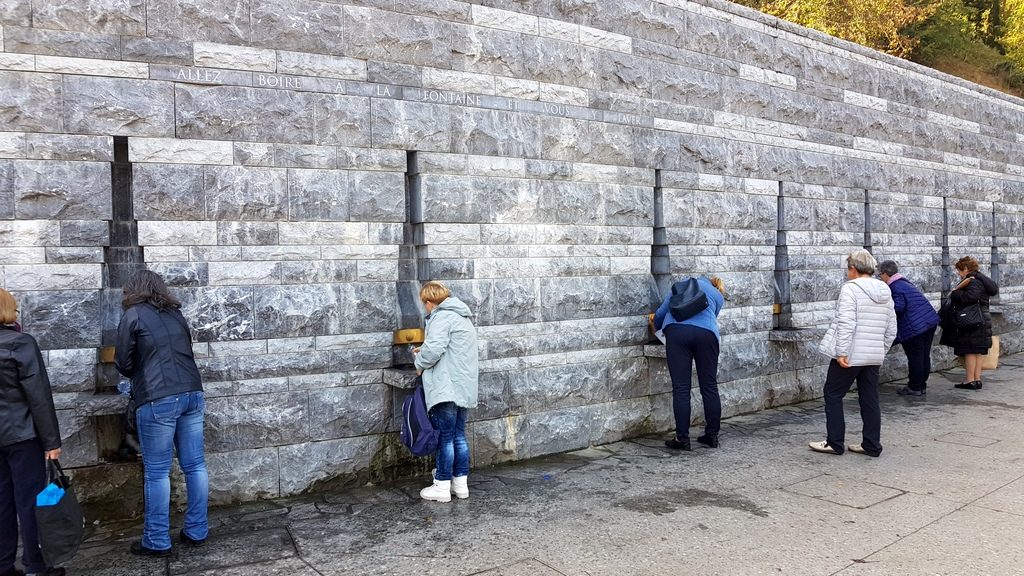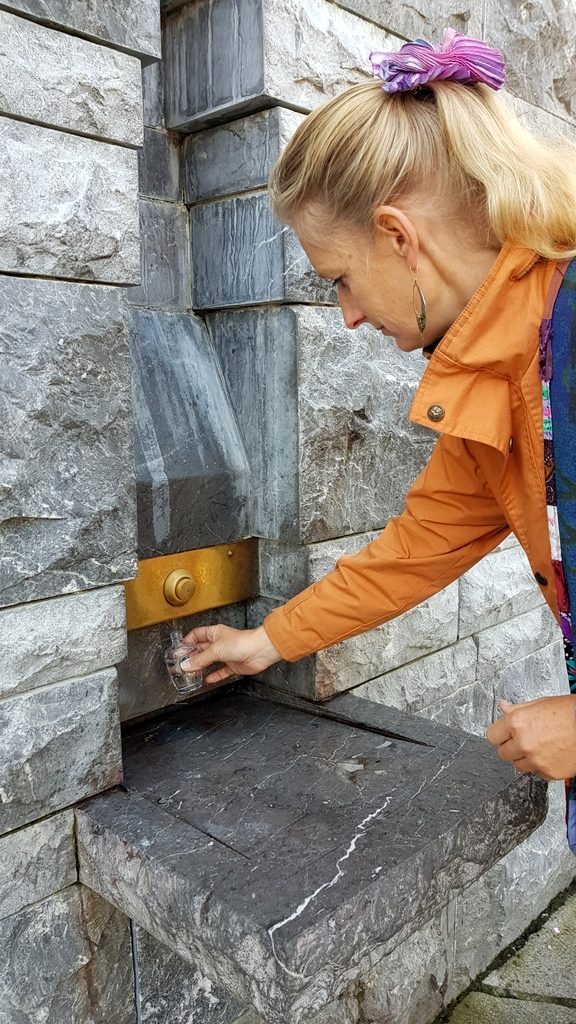 Burning candles
We stroll around the grounds and visit the "brûloirs". That's the designated area where the candles are burned. You can buy candles of different sizes (and prices), and burn them here directly. Or you can buy them and donate them, to be used later for burning at the cave of Bernadette.
After an hour or so, we've seen enough and rejoin my dad and Molly. They await us at the entrance gates, and together, we walk into Lourdes city. We quickly find a terrace in the sun and have a drink there, while enjoying the sun. Amazing to be able to do so on the 22nd of October!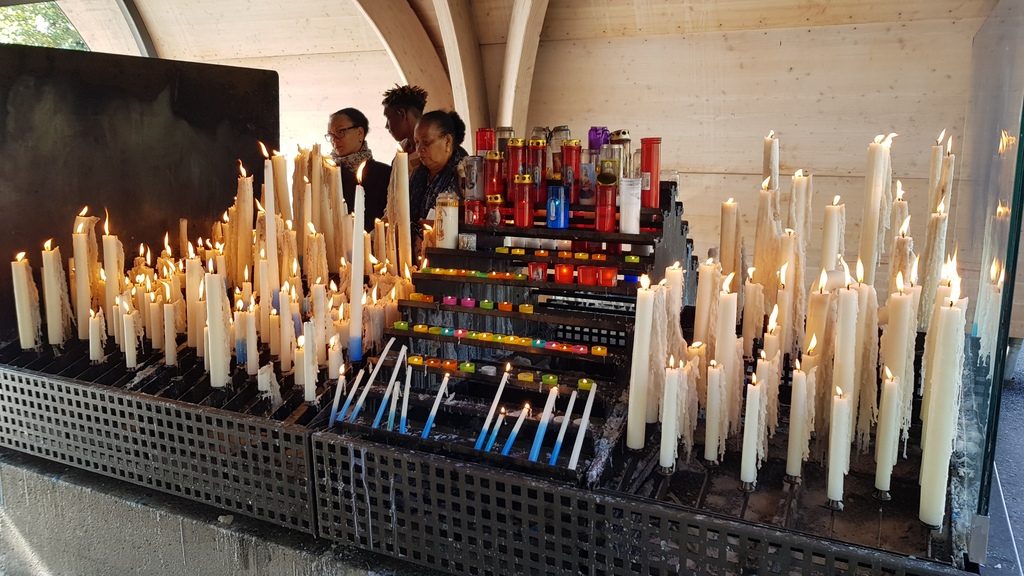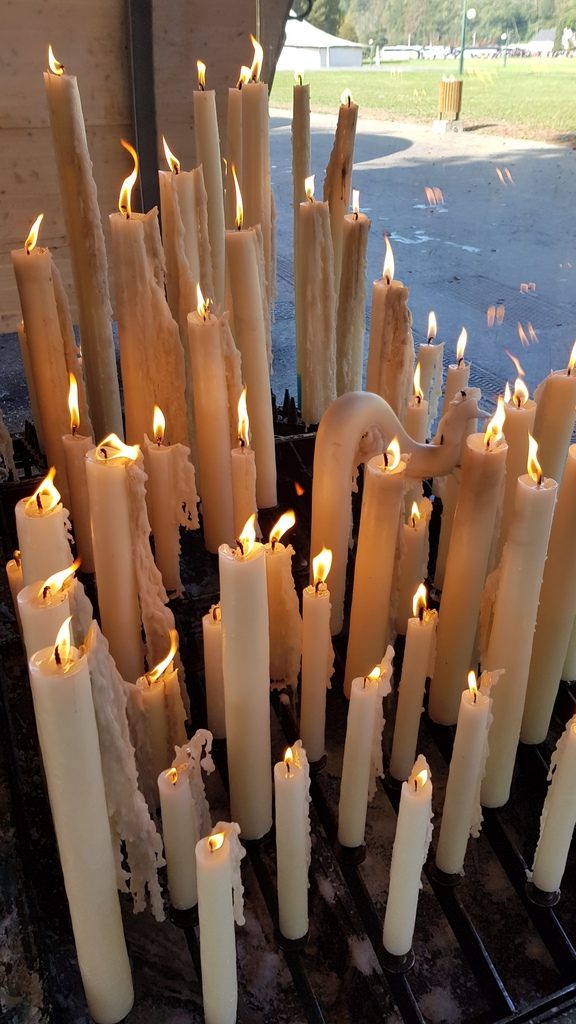 Bread and water
We break and share bread at a picknick place at the side of the road from Lourdes to Montgaillard. We have fresh bread, cheese and water. It's basic, but it tastes good. And price-wise, it beats paying € 12 per person for a crêpe and something to drink. Instead, we fill our bellies for less than € 10 for the three of us. Considering we are living off of our dwindling savings, that's quite a good deal.